ACC at Model General Assembly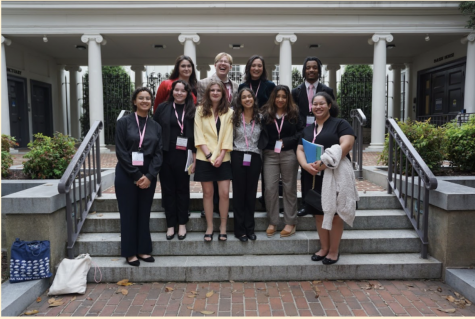 Politics, lobbying, and debating aren't activities normally seen at Arlington Career Center, a traditional STEM school. Back in April, Arlington Career Center's Model General Assembly (MGA) club went on a trip to Richmond, Virginia to participate in YMCA's Model General Assembly with many other MGA clubs from all over Virginia. The event took place from the 16th to the 18th of April.
     YMCA's Model General Assembly is sometimes held in the Virginia State Capitol, but this year, because of construction, the event took place in the Hilton hotel– where the participants were staying– and the St Paul's Episcopal Church– where the opening and closing ceremonies were held.
     Arlington Career Center's Model General Assembly team of ten, with teacher advisory by Mr. Schwind, represented our school in almost every role possible. Vale Kerns and April Kettler acted as youth senators in the senate chambers and various committees. Sophia Lander and Abrianna Jefferds acted as youth delegates in the House of Delegates chambers and committees. Our team also had four lobbyists: Cara Atkins, Anaya Sinha, Jy'den-Myles Richardson, and Laila Hailey. Both Rachel Nance, our very own editor-in-chief of the Chronicle, and Ana Cisneros were journalists during the event.
     Arlington Career Center's Model General Assembly club submitted two bills, one starting in the House of Delegates and the other starting in the Senate. Vale Kerns and Abrianna Jefferds amended a bill, strengthening and updating the family-life curriculum in Virginia schools, while April Kettler and Sophia Lander created a bill limiting the use of solitary confinement in juvenile detention centers. Both of these bills passed through the two chambers and were signed into law by this year's Youth Governor.
     Overall, Arlington Career Center's efforts in this year's Model General Assembly were quite successful. Our team enjoyed victories in the Chambers and most of the bills our lobbyist wanted passed, were passed.