Exploring ACC: The English Learner's Institute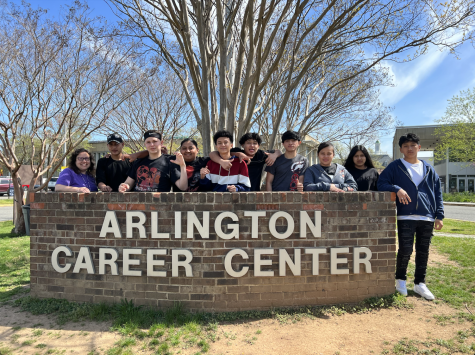 The English Learner's Institute (ELI) is one of the smaller programs at ACC that makes a big impact. Housing 56 students, the ELI Program is a community built by teachers that aid students that have recently immigrated to Arlington to find a space to continue their education and adjust to the culture of ACC and Arlington as a whole. Ms. Treviño, the program's coordinator, describes the program as a tight-knit community that aids students to continue their education, receive the counseling support that is needed in their transition, and be connected with resources in the community.

What's the goal of the ELI program?

The ELI's main goal is to to provide a supportive, family-like learning environment where students feel connected and thrive.  Many of the program's students have immigrated to the US around the age of 15 or 16 and have to take big steps to adjust to the new culture. Ms. Treviño, the ELI program coordinator, explains that education in many Central and South American countries is expensive and inaccessible to many families. "A lot of them come from very rural areas where they were working on a farm and/or they were not in school. Maybe they were helping their families with whatever was needed at home. In countries like Guatemala, you can go to school for free until the 6th grade but after that, you have to pay. If you don't have money to pay for uniforms and school supplies you can't continue going to school." Within the ELI program, students receive support to ease the transition into a new culture and learn a new language. They're all working towards the common goal of completing a high school education.

What's the structure of the ELI program?

The students in ELI take the same classes as Arlington Tech students such as math, social studies, and science classes. But the biggest challenge for most students in the program is learning English. A main focus of the student's education is their literacy skills. Ms. Treviño describes that some students are set back a few grade levels because of their English speaking skills. "We had a girl who came to the US, went to school and she was a senior in El Salvador. Now she's a 9th grader because they had to move her back because of her English." Because of this, the ELI program welcomes students up to age 21. The structure of this program features some differences from the Arlington Tech program but emphasizes the literacy aspect of their education. "If you stay in school, you'll have more opportunities."

What are the defining features of the ELI program? What kinds of accommodations do the students receive?

The counseling piece of their education is enhanced in the ELI program. "Many students come with depression and anxiety. A lot of them have been through trauma like sexual abuse. We provide counseling and also connect them with good resources in the community." says Ms. Treviño. Some of the resources noted were the Arlington Food Assistance Center, which helps provide healthy, readily available food to families in our county, and Clothesline, an organization that aids in providing free clothing for those who don't have access to it. One of the perks of that organization is that all the pieces that their clients receive are new.

Are there any recent or upcoming events planned for the ELI program?

The ELI program takes a lot of opportunities to network in their community and fundraise a lot so that they're able to take field trips and have experiences with their peers outside of ACC. "On June 2nd, all of our students are taking a trip to Six Flags. For many of them, they've never been to an amusement park or been on a rollercoaster." Ms. Treviño mentions. For the students to be able to go on this trip, they've started fundraising a lot during school lunches. It's really important for the students, as a whole, to be able to have everyone attend for free. Other than Six Flags, many of the higher-level students are taking an excursion to the Ritz-Carlton to explore job opportunities after high school.

How many ELI students move on and go to college after graduating? 

The majority of students enter the workforce, and/or attend NOVA part-time to pursue further education.