Sister Circle : WNBA Star
Jamie Bonner, Reporter
June 13, 2023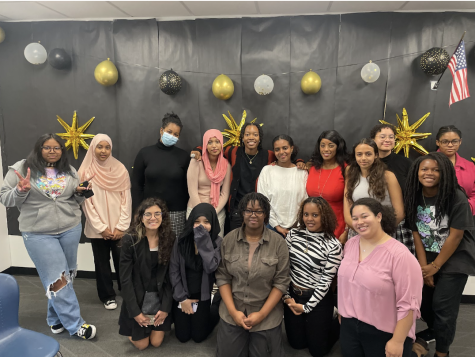 Aisha Sheppard, DC Girls Basketball Player of the Year for 2016-2017 and former Women's National Basketball League (WNBA) player of the Las Vegas Aces, came to visit the Arlington Career Center on May 31st to speak to Sister Circle members. Ms. Sheppard presented to the club the story of how she became an athlete; her journey started when she was young playing basketball with her siblings and was quickly restricted to joining an all-boys team to properly compete due to the lack of female players. After joining the amateur in high school she gained a full scholarship to Virginia Tech and graduated with both a bachelor's in multimedia journalism and a master's degree in leadership studies and was quickly drafted into the WNBA.
     She clarifies that these successes were not without struggle as she gives her advice for dealing with burnout, others perceptions of your successes and failures, and anxiety. Wise words she gave to the members of the Sister circle include, " You cannot control the actions and opinions of others but only can control what one thinks of oneself." Methods of reinforcement of this mindset included affirmations, humor, and identifying what one can and can't control. One thing she would want her younger self to know, along with the young members of the Sister Circle, was as she put it: "Don't dim your light out for anyone else." 
     At the end of the event, when Sister Circle members were encouraged to mingle and have one on one conversations with Ms. Sheppards, some members were able to hold and wear the WNBA Championship ring.This ring is, which is given out to all winners apart of the winning WNBA championship team, is encrusted with over 150 diamonds and costs more than $10,000. Some members were not only lucky enough to see the ring in person, but to be able to wear it. 
   All in all, Aisha Sheppard had become a humble yet obviously prosperous role model for young women of color in Arlington Career Center's Sister Circle.